Brian J. Bemis began his career in the automotive industry at the age of 14. According to Brian Bemis, "There's no better place to start in the car business than washing cars. When you're washing cars, you get to work with everyone inside the dealership-- sales people, service technicians, and ownership." At the age of 18, Brian Bemis was promoted to car sales and never looked back. In 1984, he purchased Kishwaukee Dodge in Sycamore, IL and currently has 11 franchises including domestic, European, and Asian manufacturers in multiple cities. 
Since 1984, Brian Bemis Automotive Group has grown to over 200 knowledgeable employees to 4 locations in 2 cities: Sycamore, IL and DeKalb, IL.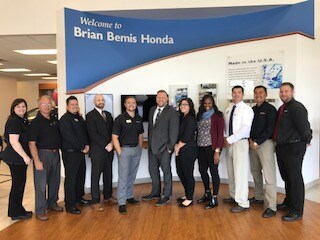 Brian Bemis Honda Sales Team

Our Customers
While we open our doors to welcome new customers daily, we have a number of loyal relationships with third-generation Bemis family customers who have purchased over a dozen cars from our dealerships. To us, that says something.
President Brian Bemis has always emphasized the importance of measuring customer satisfaction every single day. As he states, "The simple fact is that we need to keep customers more than just happy. We need their experience to be exceptional, better than they can find anywhere else."
Our Community
The Brian Bemis family lives within the communities that their dealerships operate. As a family, participating and investing in the future of the community is a priority. Whether through anonymous donations, community outreach, parades, cancer fundraisers, local schools or just helping out one of the many local organizations, we are proud to be involved in the Sycamore, IL and DeKalb, IL communities. In 2012, we developed The Brian Bemis Family Foundation to focus on grants, scholarships and community enrichment.